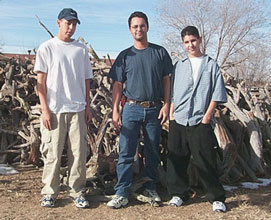 Eric, Luis, and Daniel Barela in front
of their cedar pile in Talpa, NM.
Luis Barela was born in Taos, New Mexico. He is the grandson of the famous New Mexico woodcarver, the late Patrocinio Barela. Luis was the first grandson to pick up the knife and continue the woodcarving tradition of his grandfather. His efforts have led two sons and an additional five family members to begin carving cedar.

Luis currently maintains a studio in Talpa, NM where he specializes in icons similar to santos (saints). In various forms and combinations, he extols the family structure of father, mother and child. He also creates shepherds and prophets, availing himself to the unusual forms and shapes of cedar wood to create hands, hair and beards. He is adept at utilizing the light and dark contrast of the grain to create the illusion of figures emerging from the confines of the wood.