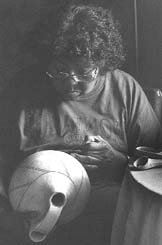 Rose Chino Garcia
Approximately 50 miles to the southwest of Albuquerque, New Mexico, high atop one of the many mesas that dot the landscape, is the Pueblo of Acoma. The silence is breathtaking. In the winter the pungent odor of pinon and juniper smoke fills the air as fires crackle in the fireplaces that heat the homes. The village has no electricity and no plumbing. Evidence suggests continuous habitation for nearly two thousand years. Examples of Anasazi pottery dating from 200 AD have been found at Acoma, indicating a rich heritage of making pottery. With few exceptions, for the people who live at the village such as Rose Chino Garcia and her daughter Tena, life goes on much the same as it was when Francisco Vasquez Coronado and his spanish soldiers came riding over the horizon in 1540.
The arrival of the Spanish, the Pueblo revolt of 1680, the coming of the Americans and later the railroad, all brought changes of shape and design to Acoma pottery. But the traditional manner of working, using the basic elements of earth, water, fire, and air, has remained unchanged with many Acoma potters today.
Rose and Tena Garcia still dig the clay from the earth and over a period of weeks mix it with water and prepare the clay for hand coiling into a beautifully shaped pot. A slip of finer clay is applied to the surface of the pot and then polished with a stone. Mineral paint, also dug from the earth, is ground on a stone metate, mixed with water and applied using the tip of a yucca leaf as a brush to drag the paint across the curved surface of the pot. Everything is done freehand. No nervous coffee jitters here.
Many of Rose and Tena's design elements are centuries old. The balance of light and dark, of design and space shows the heritage of being in complete harmony with their universe....a universe of sky, of sun, of wind, of silent mesas, and long stary nights. A universe of harmony with mother earth from which the pots are made.
Rose pased away in the spring of 2001 but Tena is still doing beautiful work.